Written by Craig Meyer – RideTech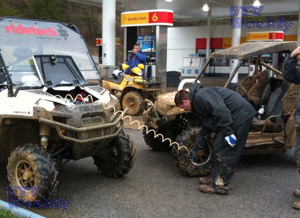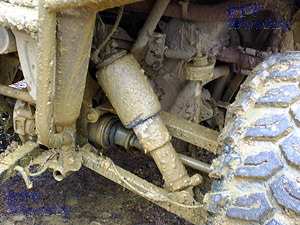 New product testing is a process that every good manufacturer goes through. It usually involves installing the new product into its specific application and then dutifully trying your hardest to break it. In the back of your mind you are hoping that it doesn't break, but at the same time you know that if it does, it at least happened to you and not one of your customers. Here at Ridetech, the process doesn't vary far from that. So, when we decided to enter into the power sports market and we developed our first products for the Polaris Ranger and RZR we knew that more than anything this stuff had to hold up to every kind of abuse you could throw at it. What better way to start product testing than to load up our rides and head down to the beautiful mountains of Tennessee and hit the Royal Blue riding area.
We were fortunate enough to get hooked up with Dwayne Lucas who is involved with the prcforum.com website and he let us know about a test ride his group was doing and cordially invited us to come along. We were eager to take advantage of this opportunity, not only to test our products, but to also get them in front of some of the biggest Polaris Ranger enthusiasts in the country. It was also a good way to outfit a 3rd Ranger with some of our products so that we could have every type of product represented during our test session. Needless to say, we jumped on the chance to do this test ride and we loaded our equipment and hit the road.
We arrived in the town of Pioneer, TN on a Thursday night at the Ride Royal Blue Resort, which by the way is a great destination for any type of off-road enthusiast, they definitely have the place designed for these types of activities. We unloaded the Rangers, had a quick dinner, planned out the next day, and decided to turn in early to be rested up for a long day on the trails. We awoke Friday morning to cold and rain, yuck, but oh well we will survive, we're tough guys, plus we have RAIN SUITS! We met up with Dwayne and a group of other riders from the forum and headed out to the trails. Since no one in our group from Ridetech had ever been to this riding area before we didn't know what to expect, but we were definitely blown away with what we encountered. First trail we hit pretty much went straight up the side of a mountain, I thought to myself, if anything we are not only testing our suspension, but also testing what these machines are capable of. If you've never had the opportunity to drive one of these side by sides they are a blast! You can pretty much go up, over, around, or through anything and that's in two wheel drive.
Immediately we were able to notice a dramatic difference in the ride quality of our new Black Series Shockwave suspension we had installed onto the RZR, the thing just seemed to float over the rocks and ruts. No harsh bottoming out, no bouncing out of the seat, just a nice civilized ride. The other great part, the adjustability on the fly as you're heading down the trail. No need to bring a spanner wrench on this trip, just a few taps of the switch and we were able to adjust the pressure in the air springs to change the spring rates to accommodate whatever type of terrain we were driving on. This part quickly became an invaluable part of the system, as any avid rider knows, the terrain can change several times throughout the day, and normally you just live with it, now you don't have to.
We plugged along the trails throughout the day on Friday, bouncing the Rangers off of downed trees, huge rocks, and deep holes. It didn't seem like anything was going to stop us, we were definitely having a great time and these machines were performing flawlessly. One of the stops we made was at a waterfall back in the middle of who knows where. This was definitely and interesting spot. We were in the middle of the backwoods of Tennessee in late march where there were no leaves on the trees yet and the temps were just now creeping back into the low 50's and here is this waterfall with green vegetation all around it. It was like being in the Amazon rain forest, and if anyone can explain how this works, please let me know because it is a pretty cool sight to behold.
Another cool feature of riding in this part of Tennessee is that you can actually ride out on the public roads as long as you do so with common sense. Here in Indiana, we aren't so lucky in most areas and have to keep the fun contained to private property mostly. The riding area we were at actually butts up against the interstate in some areas and we were able to actually drive down out of the hills right up to a gas station. It doesn't get any more convenient than that. This makes a great pit stop when you are roaming around the back country and you get a craving for homemade fudge, a pecan log, and a pack of bottle rockets. Fortunately for the rest of the group the fireworks store was across the exit and I just didn't have the ambition to make the trip. It was on this stop that we were able to make use of another great feature that we incorporated into the Ranger XP we were riding. With this unit we had installed a complete on-board air system with storage tank that we plumbed an auxiliary hose to in order to make use of various pneumatic attachments, mainly an air chuck. We noticed that one of the other riders had a tire that was running a little low, so we promptly invited him over to have the problem solved. We had him fixed up and running right in no time. With 3 gallons of capacity and 150psi on hand you are able to make quick adjustments effortlessly.
We then headed over to another part of the riding area that was once an amusement park years ago and had long since been abandoned. There weren't any of the rides left, but the parking lot and remnants of a small train type ride were still there. This place definitely had a creepy feel about it, but was kind of cool to explore. The old train ride's tracks were taken up, but the cross ties were still there and made a trail we rode that further allowed us to compare how much better our new air suspension rode versus the traditional coil-over shock suspension. While most the other guys were bouncing all over the place we were cruising right along soaking up the bumps like nobody's business. We then headed out of there and over to an area where we saw one of the most amazing views I've ever seen in my life. I don't recall the specific name of this mountain, but the view at the top was spectacular. It was the trail leading up to this that things got a little crazy for some guys and we even had one on its side, but luckily there were no injuries and we all enjoyed the view for a while.
We made our way back down out of the mountains and started our journey back to base camp. We were all feeling good about the progress we were making and thoroughly enjoying our time on the trails, but the day was coming to an end and we knew we still had a whole other day to do more thrashing. All the Ridetech components we installed were doing great without even a hint that there were going to be any problems so when we made it back to camp we enjoyed a few adult beverages and reflected on our day. We swapped stories around the campfire and started to feel like we may have a hit on our hands as we were getting more and more questions about the products we were using. Most of the guys we were with had never seen anything quite like what we had, and we were out to prove that it was a viable alternative to what they've been used to using. Plus we now had Dwayne convinced that he made the right decision in allowing us to outfit his RZR with our suspension, so we had a guy on the inside that could vouch for us as well. BONUS!
Saturday morning came and as the sun rose over the mountains you could smell in the air that this was going to be a great day, not only for our testing, but the weather was going to be much better than the day before. We were excited to get back out on the trails and find some more new areas to explore. We met back up with our group and headed back into the mountains, we all were on a mission to have a good day and regardless of what happens we weren't going to let it get us down. We were rolling along at a pretty good pace hitting everything as hard as we could. If we were to find a weak link in this suspension this was the only way to do it. There was no way to wipe the grin off our faces as we put this suspension through the paces; we were convinced that this was the only way to enjoy the trails from now on. We eventually came across a river crossing and as we were waiting our turn one of the ATV's in front of us seemed to be struggling, the water was fairly deep and running pretty fast so we really couldn't tell what was going on, but it became evident shortly thereafter that one of his rear wheels had actually come off while he was in the water. Luckily he was able to snag the wheel assembly before it floated down stream. We got him out of the water and after a short while had him fixed up and ready to roll again.
We headed back out into the trails again and eventually found our way to where a couple of the trails merged together. At this location we found a mud hole big enough to swallow a VW Beetle whole and proceeded to encourage a few of the guys to take a stab at going through, unfortunately none were successful and there was actually one guy who ended up popping his tire off the bead. It was a bad situation and he was without a spare so he was worried he would be stranded in the woods for a couple hours while someone went and found him a new wheel and tire to bolt on. We thought what the heck, if we are able to air up a tire with our on-board air system, why can't we reset a bead on a rim? We then pulled our Ranger over to his broke down ride and got enough of the mud out of the way to make an attempt at reseating the bead. Without fail the Ridetech air system came through once again. We hooked the air chuck onto the rim and went at it, after a few seconds of pushing around on the tire to get a good enough seal the tire started to take on air and slowly worked its way back into the bead seat and we were off and running again in no time.
Throughout the day we were able to swap a couple of the guys in and out of our rides to show them what kind of difference our suspension made in the ride quality of these UTVs. It continually blew their minds and what a difference riding on air makes. One guy had a really good comment to make, "how much and when can I have one?" I think that pretty much speaks for itself as a testament to what we've been able to do for these machines. Sometimes you have to put your money where your mouth is so to speak and I think we successfully did that over the course of that weekend. We made believers out of these guys and we are determined to make believers out of everyone else, even if it's just one at a time. With our dedication to our customers and our focus on building a quality product we know that we can change the way the weekend rider or a professional who uses his ride for actual work thinks about the way he can improve his side by side and what it is capable of.
As the day wound down to an end we looked back on the successes of the weekend and felt good about the time we spent out on the trails. We were able to thrash on our products without a failure, we learned volumes about what our suspension does off road, and we also learned what we need to do to continue to keep our customers coming back for more. As a manufacturer, customer feedback is one of the most important tools we can use to improve our products and continue to develop new products to satisfy needs in the "real world". We've been continually refining and testing our products and have many more events scheduled for the upcoming year, so don't be surprised to see us out on your trails sometime soon.
Written by: Craig Meyer – Craig has been on the RideTech crew since 1998. He enjoys playing guitar, horror movies & DIY Home Improvement.