We were sitting around the camper Sunday afternoon getting ready to go out and a member of the Carolina ATV riders "Len"
stopped by on his Brute Force. Forgive me if the trail numbers are not correct. (old map)
We talked for a while and decided to go for a short Brimstone loop.
(3, 1, 95,then 8, 1 and 7 back to camp) Sounds fun!! We made great time so when we got back to 8/1 we decided to try to find the tower on the map. (TWRA map #'s from here on) I think the tower is at the top of 14. We did it was pretty cool, great views.
Looked like someone had been talking Skip or Ham radio up there. Very old communications bunker too.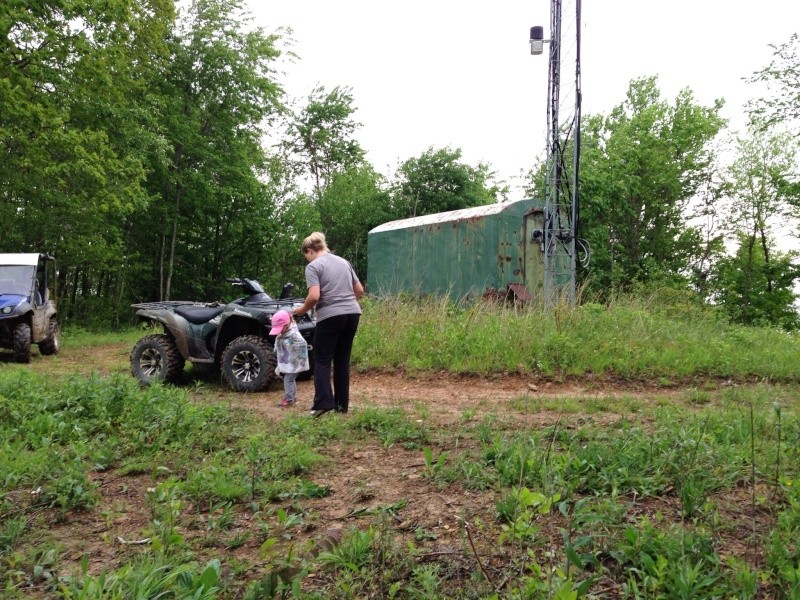 We still had plenty of daylight so we decided to keep going. This is where it got real fun!!
14 to 18. Great overlook at junction of 17,17 and 19.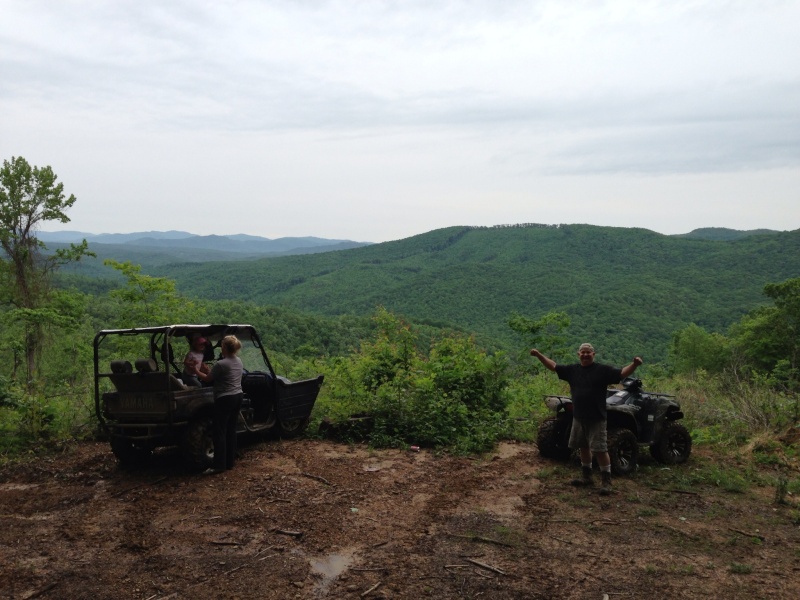 19A to 19. (really overgrown)
Went down 47 a little then cut back on 58 really overgrown!!
From 58 we went up 21 to 20A I think, went way up the hill into a dead end (some great hill climbs there) Back down to 21.
Got on 21 and went through some great rocks, a little of creek time too.
BEAUTIFUL. OK it is dark now!! So time to head back. I am looking a the map (original "not complete" March map from TE)
Looks like 21 and 24 end up in the same place, 24 is a little longer so we take that. What fun!! everything is great until we find this HUGE trench... Looked like some backhoe work and a big rain, Hmmm??? and a 4 ft deep ditch crossing the trail...
First time I ever had to winch DOWN HILL!!
Picture does not do it justice. You would have to be there.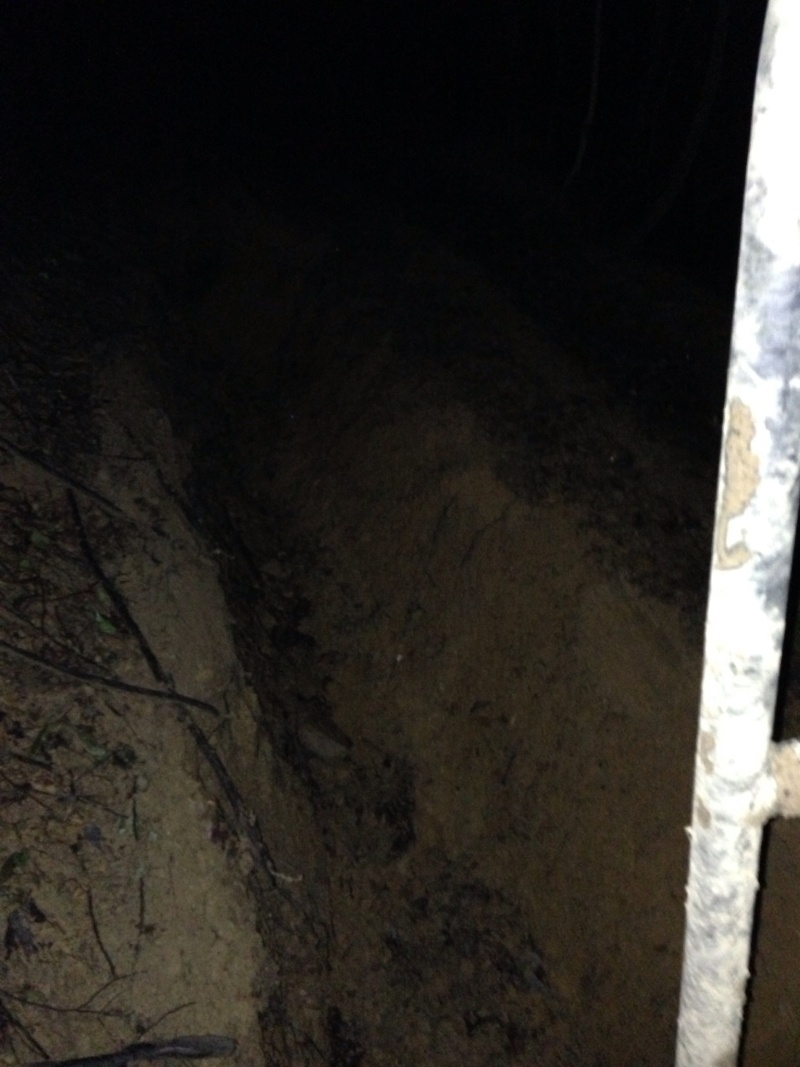 OK so we made it, now what? Looks like the trail goes on up the other side (nice and clear, wide too)
WRONG!!
PRIVATE PROPERTY KEEP OUT POSTED!!
WTH do we do??? looks like we are 150yds from 47 on the map but I'm not getting shot!!
Oh yeah side note. What do the Red bubbles with a white X on the map mean?
Did I just find out?!? OK we are screwed!! My new friend Len is already on empty (flashing). We absolutely cannot go back up what we just came down.. NO WAY!! So we blazed up the left side through the woods to a point above the bad washed out 3ft deep rut.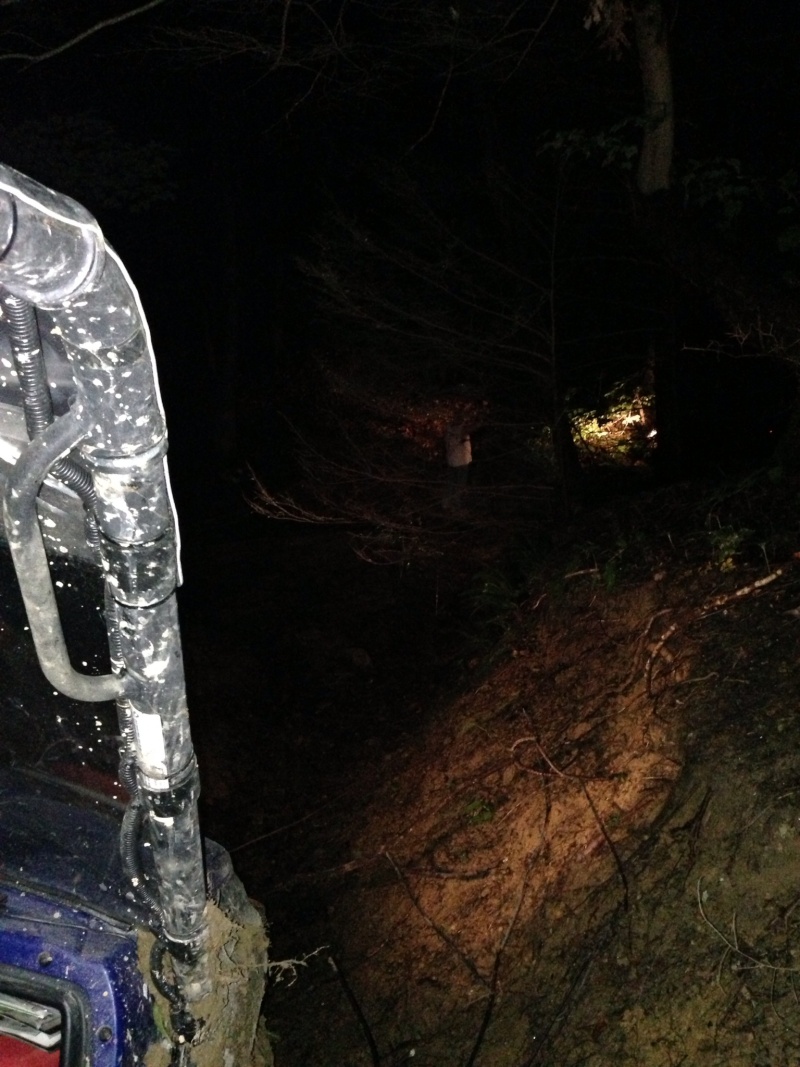 Had to hook the winch up across the trail above just to keep from rolling while attempting to get back on the trail.
45 min later we are back tracking on 21 or 24?? not sure Ended up being 21. We are riding some of the most overgrown trails I have ever seen, IN THE DARK! OK, right on 57 (great trail!! Right on 20, short trip over the creek and back to 47. Len's gauge is still flashing, his fingers are crossed!! AHHH 47 past 9 then...wait for it...past the (right at the church fork!!) sign...
Asphalt all the way back, turn left on Winona (didn't almost get rear ended this time!!) LOL Back to camp (it is now 2am) Len's Brute force took 4.8 gallons, it has a 5 gallon tank!!!
Couple beers, ribeye and baked potato!!
Best meal ever (
thought I might not get another earlier
) Shower and bed (3:15am) Quote of the night? Hannah, "No more night rides Daddy!!"
Sorry for the long write up but I had to share. Wish some of you could have stayed to enjoy this fiasco.